CLI concrete armour units to protect port and coastal structures
Our breakwater protection systems consist of concrete armour units placed in a single layer. These units are unreinforced and specifically designed to provide a high level of protection for exposed coastal structures.
The ACCROPODE™ unit was developed by Sogreah in the late 1970s. It is the first so-called "artificial" artificial armour unit and has been widely used in nearly 200 projects to dater.
-> Read more
The ACCROPODE™ unit, a pioneer in single-layer technology, has proved to be highly successful on a great number of breakwater projects over the past 40 years. Thanks to its excellent hydraulic stability and well-proven robustness, this artificial unit has become the leading single-layer protection system and the benchmark for current breakwater armouring.
The ACCROPODE™ II unit was designed by drawing on the experience gained with the first-generation ACCROPODE™ on a substantial number of projects. It retains all the qualities of the original units.
-> Read more
The ECOPODE™ technology is designed to meet two requirements of eco-design at sensitive sites: promoting biodiversity and blending into the surroundings. It can be adapted depending on the specific conditions of each site, in order to create an ecosystem and blend into the local environment.
-> Read more
The CORE-LOC™ unit was developed and patented in the mid-1990s by the US Army Corps of Engineers.
-> Read more
The ACCROBERM™ toe unit is an economical alternative that provides enhanced stability and an opportunity to incorporate eco-design considerations into your structure.
-> Read more
CLI's artificial units
The ACCROBERM™ concept consists of a toolbox developed around a flexible and adaptable toe unit. It can be modified in accordance with the objectives to be met.
ACCROPODE™ from 0.8 to 28 m³    
ACCROPODE™ II from 1.0 to 28 m³
CORE-LOC™ from 0.7 to 11 m³    
ECOPODE™ from 0.5 to 10 m³
ACCROBERM™ from 0.5 to 10 m³
The unit volumes indicated are standard sizes. However, other sizes can be developed to suit the requirements of each specific project. Furthermore, CLI has a database of unit sizes already used in the context of previous projects and for which moulds are already available.
Hydraulic stability

During the preliminary sizing phase, the stability coefficients used are based on the initial values proposed below.
The stability coefficients ("Kd") for Hudson's formula recommended in slightly or non-breaking wave conditions are:
ACCROPODE™
15 on breakwater trunk sections
11.5 on breakwater roundheads    
ACCROPODE™ II 
16 on breakwater trunk sections
12.3 on roundheads    
 CORE-LOC™ 
16 on breakwater trunk sections
13 on roundheads
 ECOPODE™
16 on breakwater trunk sections
12.3 on roundheads
The recommended Van Der Meer stability number is:    
 With:
   HS = significant wave height
   ∆ = relative mass density
   Dn50 = nominal diameter
These coefficients vary depending on many parameters that will need to be taken into account; they are valid for armour slopes from 3H/2V to 4H/3V. However, for breaking waves and seabed slopes greater than 1%, adapted values will be applied.
Robustness

During the development phase, stress distribution in the units was analysed using finite-element comparative studies and full-scale drop tests.
Experience acquired on over 200 projects has demonstrated the excellent behaviour of the ACCROPODE™ unit.
The finite element comparative studies demonstrated that the ACCROPODE™ II unit has a robustness that is comparable to that of the ACCROPODE™ unit, thanks to its shape allowing excellent distribution of stresses in the concrete, whether during the fabrication and placing phase, or during the lifetime of the structure. This is an undeniable advantage for the overall economic analysis, the reliability and the risk assessment for this type of protection system.
The structural quality of the ECOPODE™ is maintained regardless of the unit surface appearance. 
Practical aspects

Choose a type of unit to see the related practical aspects: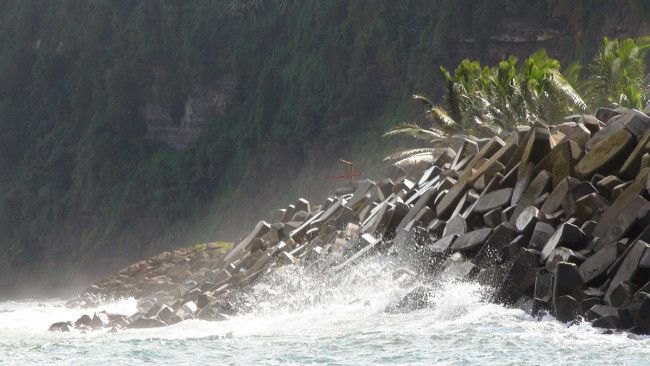 Unreinforced concrete armour units provide outstanding performance and proven success on projects:
Cost effective
Reliable
Robust
Natural placement
Reduced construction risks
Adapted to environmental considerations
Recording of results, feedback and project-specific technical assistance