ACCROBERM™
ACCROPODE™ armour facings have been recognised for nearly thirty years as being reliable, efficient and cost-effective. The overall stability of these facings is highly dependent on the stability of their toe. 
Artelia and CLI have developed an innovative toe system to improve stability and facilitate construction.
The ACCROBERM™ concept  is a toolbox developed around a flexible and adaptable toe unit. It can be modified in line with the objectives to be achieved and offers a number of practical benefits:
Stabilises the toe in wave breaking zones.
Eliminates the need for a stabilising toe trench made of rock in most cases.
Eliminates the need for a rockfill toe mound.
Is an economical solution that is easy to implement.
Reduces the maritime footprint of the structures.
Ensures seamless integration into an environmentally sensitive site by offering eco-design possibilities to restore ecosystems or create new ones.
Two versions are available, both of which can be adapted in line with the site conditions.
The ACCROBERM™ I unit is designed to stabilise armour toes at the points where they are most exposed. Its excellent stability stems from its round frusto-conical shape, its very low centre of gravity and its vents. These units alone can replace both the first row of ACCROPODE™ units and the rockfill toe berm. If necessary, the units can be fixed to the ground using anchor rods, thereby maintaining stability even under severe wave attack.
The ACCROBERM™ II unit is an economically viable option if the rockfill toe berm needs to be excessively heavy, or when the eco-design dimension is particularly significant: this ring-shaped unit can be used to create a support at the toe of the structure providing new habitats for specifically targeted species. The unit is filled with rockfill or materials that attract larvae and juveniles as well as adults, thereby creating a new ecosystem or recreating the pre-existing one.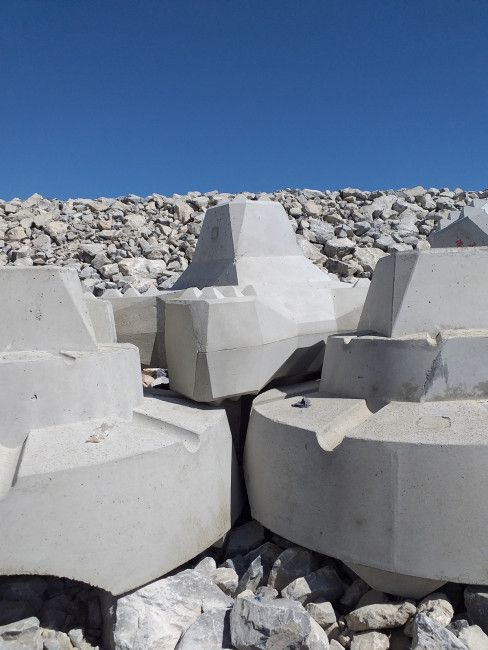 The structural and hydraulic reliability of this concept has been verified through numerical calculations and 2D & 3D physical scale models.
The ACCROBERM™ I and II units provide excellent stability compared to conventional rockfill, and the placing methods facilitate the use of conventional construction equipment.